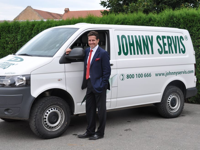 Do you remember how it looked twenty years ago? You have arrived to a music festival, international sport business or any open-air action and you have not found any services there. In the best case, a latrine or a washroom with rusty and cold water, in a worse a wild forest or any brook. No trace of the basic health, safety and environmental standards or services. And approximately at that time, the first service car with the JOHNNY SERVIS logo started his journey to its customers. With a few employees, a few dozens of mobile toilets and great enthusiasm, the company launched its business.
Nowadays JOHNNY SERVIS belongs in the rental of mobile toilets and mobile fences to the most successful companies in Central and Eastern Europe. With its branches in Bohemia, Slovakia, Austria and Hungary, JOHNNY SERVIS supplies a market with more than 30 million inhabitants. The company rents and sells mobile toilets, mobile showers and sinks, as well as mobile fences, plumbing trailers, mobile offices, office and warehouse containers. It also offers a complete party service and also mobile flood barriers called Tiger Dam.

"In the field of mobile equipment rental, JOHNNY SERVIS can draw on over forty years of experience in Canada, but also from many knowledges acquired in the local environment. We are able to completely cover the requirements of construction companies as well as organizers of cultural and sporting events, music festivals and golf tournaments as well as private parties or family celebrations," says Matthew Vaclav Duras, the managing director, and looks twenty years back after the activity of the Company on the Central European market. "Our further advantage is that we offer our customers an all-in-one system, so they get tailor-made service solutions, including a complex background. This is not only more comfortable for them, but ultimately also cheaper."

Of course, it is not just about the history review, because JOHNNY SERVIS has ambitious plans for the future as well. As the first on the market we divide our services into two parts – JOHNNY SERVIS EVENTS and JOHNNY SERVIS CONSTRUCTION. The BUILDING division offers the same standard in our country as in Central Europe, the complete background basis for construction sites - from toilets, fences and containers to a porter's house or office space...The EVENTS division also offers advice on the planning of events, from family celebrations to international sporting events, racing events or concerts with world-famous mega stars.

"Our motivation is to make our offer broader and qualitatively better every year, and to come up with further news because it is not self-evident to maintain a good market position and a good reputation", says the director of JOHNNY SERVIS Matthew V. Duras about the twenty-year history of the company operation. "However, the greatest pressure does not create the market, but we ourselves. We would like to be a reliable partner of our customers in the coming years and provide support offering such services that we meet all requirements and wishes, whether they come from individuals or large companies."