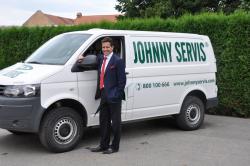 The year was 1996 when the first service vehicle with the logo JOHNNY SERVIS began its journey to our customers. With only a few employees, a dozen or so mobile toilets and a great deal of enthusiasm, we boldly set about our business.
Central and Eastern Europe. With offices in Bohemia, Moravia, Hungary and Slovakia it covers a market with a population of over 20 million. It rents but also sells mobile toilets, showers and was basins, mobile fences, sanitary trailers, mobile offices and office and storage containers. It also offers a complete party service, as well as Tiger Dam mobile flood barriers.

In the field of mobile equipment rental, we can draw on over forty years of experience in Canada. We are able to completely cover the requirements of construction companies as well as organizers of cultural and sporting events, music festivals and golf tournaments as well as private parties or family celebrations.

Mobile toilets can now be ordered equipped with a wash basin and running water, urinals and door mirrors. However, because our customers have increasing demands from year to year, we are still trying to come up with something new. An example might be our Five Star luxury mobile toilets, in which you need not touch anything. The toilet flushes itself, and the taps, soap dispenser and built-in waste basket respond to a simple hand movement. They also feature air conditioning and a sound system.

We aim to provide services that meet all of the requirements and needs of our customers whether they are individuals or large companies. We want to be a reliable partner for your successful projects!

Yours faithfully,
Matthew Vaclav Duras
General Director