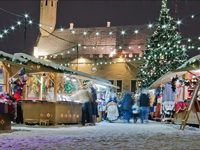 The planning of a winter event, e.g. ski racetrack or advent market on the town square, is similar to the summer season, however, you should pay attention to some specifications. Their omission may lead to unpleasant surprises and the overall impression of an otherwise perfect organized event could be bad. Some "fine details" can on the contrary turn an average winter event to a highlight. So what to prepare for?
In heavy frost, the mobile toilets can freeze, therefore it is recommended to use only toilets with urinals, e.g. JOHNNY SPORT, where we use special antifreeze in winter. Higher quality of toilets, e.g. JOHNNY SUPER or JENNY, must be regularly checked. For the toilet hygiene, the organizers like to use the sanitary holder JOHNNY FOUNTAIN, which offers more comfort than running water during the freezing period and is often used by the participants. You can see them e.g. on the advent markets in many smaller towns.
When using sanitary containers, you need additionally to provide protection of supply and waste hoses against frost. Our customers often mention that the trailer FIVE STAR has proven to be suitable in the cold season, due of integrated air conditioning and heating.
In winter, they are more popular containers or trailers with integrated heating than tents. We equip this tents on the customer's wish with infrared heat lamps or diesel heating. Gas heating "mushroom" should be placed for security reasons outside the tent or just around the edges.
When using tents, it will be necessary to reckon with more additional personnel for snow removal on roofs for security reasons. This can be prevented with heating of the tent so that the snow from the roof melts. It is, however, important to monitor the actual weather conditions - it is better to anchor the tents for safety reasons and to keep another solution ready, if the tents would have to be removed due of the wind gust. In case of thaw, you have to think about the floor (you can use e.g. a temporary flooring, pallets, or even painted floor) and "walkways" with a suitable covering between the tents.
In heated areas, you will need enough space for storing coats. The simple solution is to use benches with hangers. For larger events, the organizers like to use changing rooms - mobile offices, which is especially appreciated by the participants, as they do not have to worry about their clothes during the event.
Due to the early dawn daylight conditions in the winter, halogen lamps are very popular with customers. The street lanterns on the market square are usually not designed for evening markets, and darkness may be a source of gloomy atmosphere. A good orientation can also be a problem, as the usual "landmarks" are not clearly visible and the visitor can be frustrated if he should get lost. A big plus are portable toilets with lighting on photocell.
An inconsiderable risk is also the slippery surface with hard-packed snow. The organizer is then responsible for injuring the visitors. This is easy to prevent by placing suitable anti-slip mats over these areas.
JOHNNY SERVICE supports technically well known autumn and winter events such as "Spartan Race", "Jizerská 50" or more than one hundred advent markets and "devil events" throughout the Czech Republic. We provide our customers not only with products and services, we also support them by advice on planning and realization. We offer our customers a comprehensive product service – from the portable toilets over hygiene and roofing to lighting and heat sources (be inspired).

We are happy to advise you on planning your events by phone: +420 800 111 666, or email: This e-mail address is being protected from spambots. You need JavaScript enabled to view it .