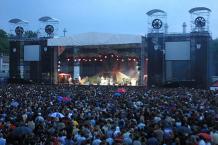 For cultural and sports events
we provide:

- stage systems
- auditoriums
- roofing, tribunes
- stairs and railings


STAGE SYSTEMS

Height of stage is variable up to 250 cm
Size of the stage is not limited
Schodišťové vstupy, šupny, zábradlí, koberce
For all stages a certificate of safety is available


AUDITORIUMS AND TRIBUNES
Stepped buildings with elevation of 10, 20, 30 and 40 cm (also other options) always have their own entrances, railings and ventilation for maximum safety of spectators.
Tribunes may be constructed in various shapes according to the needs of specific events. Tread depth is usually 1 meter.
Can be delivered also with chairs or benches or there is possibility of sitting on the steps.
ROOFING
Roofs are made using special construction of aluminium trusses, composed of several parts for easy transport, construction and storage.
Rain protection is resolved by waterproof impregnated tarpaulin with several coatings. Side coverage and the horizon is resolved by using nets, and also tarpaulins.
The size and height of the roof depend on different parts and types of structures.
Small roofs (regular size) - 4 x 3m, 6 x 4 m, 8 x 6m, 10 x 8m
Large roofs (regular size) - 12 x 12m, 16 x 12m, 19 x 16m


STAIRS AND RAILINGS
We provide staircase to different stage heights
railings in the two-meter, meter, and stair parts