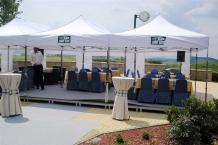 Scissor tents are designed with an emphasis on very quick, simple and easy handling.

Structure - scissor construction ensures a very rapid building and unbuilding of the tent.
roof structure remains after the first use, it is waterproof, mildew and fire resistant.
SCISSOR PARTY TENTS FOR SALE
Dimensions
Our
sales representatives
will be happy to provide you with more information on other dimensions of scissor tents.
We offer 11 colours - with possibility of different combinations

SCISSOR PARTY TENTS FOR RENT
Available in white colour.